Helix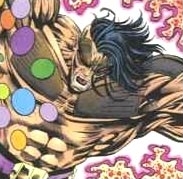 Attributes
| | |
| --- | --- |
| Eyes: | White with no visible pupils or irises |
| Hair: | Black |
| Height: | 7'11" |
| Weight: | 338 lbs. |
Powers
| | |
| --- | --- |
| Abilities: | Speaks fluent Spanish and little English. |
| Limitations: | Without any external stimuli, his body reverts back to its original state. |
| Powers: | Helix is a hyper-adaptoid whose body unconsciously and instantaneous adapts to external stimuli, especially attacks. When mutating, his physical size, strength, speed and durability usually increase and his skin gains spikes or blades that can have metallic, armored or frictionless properties. |
| Strength Level: | Superhuman, can lift or press between 800 lbs. and 25 tons. |
Summary
| | |
| --- | --- |
| Citizenship: | Unrevealed |
| Created By: | |
| Current Occupation: | Wanderer |
| Dual Identity: | Secret |
| Education: | Unrevealed |
| Former Bases: | New York City, NY |
| Former Groups: | New Warriors |
| Former Occupation: | Unrevealed |
| Known Allies: | New Warriors, Scarlet Spider |
| Known Confidants: | Turbo |
| Legal Status: | Unknown |
| Major Enemies: | Jackal, Spidercide |
| Marital Status: | Unrevealed |
| Place of Birth: | Unrevealed |
| Real Name: | Rafael Carago |
| Usual Bases: | Mobile |
Background
When the Jackal and Spidercide released the Carrion Virus on the town of Springdale, Pennsylvania, there were no survivors. None except for one. Rafael Carago was discovered by the Center for Disease Control, but his skin became too hard for them to sedate him and he escaped their custody. The New Warriors and the Scarlet Spider were able to subdue the rampaging Rafael, now codenamed Helix, and turned over to agents of Project: Pegasus. But, the Jackal learned of the survivor and Spidercide had replaced one of the agents in order to kidnap Helix.
The Jackal conducted further experiments on Helix, mutating him further but unable to learn how his adaptoid powers developed. During a clone revolt in the labs, Helix was able to escape. Helix was now loose in Manhattan, fighting hallucinations of Spidercide and the Jackal. Once again, the New Warriors and the Scarlet Spider reunited to take Helix down and incarcerate him at their Crash-Pad HQ.
While there, Helix regained his mental stability, although with a case of amnesia, and became a guest of the team. He began to speak (albeit in Spanish) and was able to gradually become part of the group, aiding them in various adventures. Turbo had take it upon herself to teach Helix English during is stay with them. However, Helix soon had a desire to rediscover his identity and his past and left the team. His whereabouts are currently unknown.
Appearances
Thanks To
The assistance of the Marvel Chronology Project is gratefully acknowledged.
Some of the above information is extracted from the various versions of the Official Handbook to the Marvel Universe and the more recent Marvel Encyclopaedias.