Facade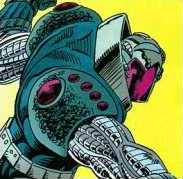 Attributes
| | |
| --- | --- |
| Eyes: | Unknown |
| Features: | Male, Moderate Build and Height |
| Hair: | Dark, Short/.Medium |
| Height: | Unknown |
| Weight: | Unknown |
Powers
| | |
| --- | --- |
| Equipment: | F.A.C.A.D.E. armour (Full Acclimation Combat And Defense Explo-skeleton) |
| Powers: | With F.A.C.A.D.E. armour - ability to shoot green bio-bolts. |
| Strength Level: | With F.A.C.A.D.E. armour - exceptional. |
| Weapons: | Bio-Lasers |
Summary
| | |
| --- | --- |
| Citizenship: | Unknown |
| Created By: | Terry Kavanagh, Alex Saviuk, Stephen Baskerville, Al Milgrom |
| Current Aliases: | Unknown |
| Current Occupation: | Unknown |
| Dual Identity: | Totally Secret |
| Education: | Unknown |
| Former Aliases: | Unknown |
| Former Bases: | New York |
| Former Occupation: | Unknown |
| Known Allies: | Unknown |
| Known Confidants: | Unknown |
| Known Relatives: | Unknown |
| Legal Status: | Wanted for Murder |
| Major Enemies: | Spider-Man |
| Marital Status: | Unknown |
| Place of Birth: | Unknown |
| Real Name: | Unknown |
| Usual Bases: | New York |
Background
Everything you need to know about Facade, you can learn by reading Al Sjoerdsma's detailed review of the one and only four-part Facade arc Live and Let Die from Web of Spider-Man #113-#116. Thankfully, that comprises the sum total of appearances for this pointless villain.
Terry Kavanagh was responsible for scripting a number of abominations in his painful run on Web (from 77 thro. The pointless murder of Lance Bannon, the unintrigueing mystery of Facade's irrelevant identity, the "Private Eyeing, Tight-Skirted Machine-Gun Toting" absolutely unbelieveable changes to Betty Brant... the list goes on.
Terry was particularly fond of tough-talking, two-dimensional armoured characters, belonging to groups with lots of Acronyms. He was also responsible for Firebrand, The Rose and The Blood Rose rubbish, The Spider-Armour, a ton of Pointless Character Appearances from trendy types like Ghost Rider, and Gambit - and he also carries the stigma of having written the Web stories from Maximum Carnage.
But Facade was surely his worst effort. Facade will be remembered only as the answer to three questions... "What happened to Lance Bannon?", "Who was the most pointless Spidey Villain ever?" and "Surely nothing could be worse than a clone of Aunt May?"
So who is Facade? Well, F.A.C.A.D.E. actually refers to the body armour - a prototype manufactured by Morelle Pharmaceuticals, under the auspices of Dr. Thomas Haney. It has "non-concussive paralytic arcs", "bio-integrated systems", and "groundbreaking techno-organics". Cool, eh? Thanks, Terry.
Anyhow, somebody steals it, Lance Bannon gets a photo of them, but is killed after developing it but before he can reveal it. Oh, yeah, Dr. Haney is killed too. The candidates were: J. Jonah Jameson, Mike Wilson, Cole Cooper, Victor the Butler, Archer Bryce, and John Jameson. Read the review, if you want to try and figure it out - but unless T.K. spills the beans, I don't imagine we'll get a satisfactory answer. This ain't Sherlock Holmes, ya know!
Appearances
Thanks To
The assistance of the Marvel Chronology Project is gratefully acknowledged.
Some of the above information is extracted from the various versions of the Official Handbook to the Marvel Universe and the more recent Marvel Encyclopaedias.