Rose II (Sergeant Blume)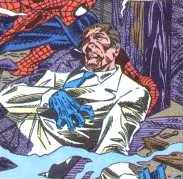 Attributes
| | |
| --- | --- |
| Eyes: | Brown |
| Features: | Looks just like The Rose, version 1.0. |
| Hair: | Brown |
| Height: | Unknown |
| Weight: | Unknown |
Powers
| | |
| --- | --- |
| Abilities: | Police training |
| Limitations: | Badly scripted |
| Strength Level: | Normal human strength |
Summary
| | |
| --- | --- |
| Citizenship: | American |
| Created By: | |
| Current Occupation: | Deceased |
| Dual Identity: | Not generally known |
| Education: | Presumably College Educated |
| Former Bases: | New York City |
| Former Groups: | Allied with Richard Fisk |
| Former Occupation: | Police Sergeant |
| Known Allies: | Various armed goons |
| Known Confidants: | Richard Fisk, Alfredo |
| Known Relatives: | Brother Billy (deceased) |
| Legal Status: | Deceased |
| Major Enemies: | Wilson Fisk |
| Marital Status: | Unknown |
| Place of Birth: | Presumably U.S. |
| Real Name: | Sergeant Blume |
Background
Sergeant Blume played the role of The Rose during the Name Of The Rose story. He and Richard Fisk (Schemer, Rose, Blood Rose) apparently had a plan to overthrow The Kingpin, each for their own personal motives.
Richard wished to destroy the evil that his father had become. Sergeant Blume was persuing revenge for his brother Billy, a cop who turned down a bribe from The Kingpin, and paid for that insult with his life.
Sergeant Blume was supposedly on the side of the forces of good, trying to clean up the streets, but he was certainly implicated in a lot of crimes... murder, breaking and entering, criminal fraternization, attempting to procure a hitman, and a whole swag of gun offences on a major scale.
Appearances
Thanks To
The assistance of the Marvel Chronology Project is gratefully acknowledged.
Some of the above information is extracted from the various versions of the Official Handbook to the Marvel Universe and the more recent Marvel Encyclopaedias.