Xraven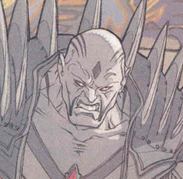 Attributes
| | |
| --- | --- |
| Eyes: | Red |
| Features: | Pencil Mustache, bleach white skin |
| Hair: | Bald |
| Height: | 6' 0" |
| Weight: | 235 lbs |
Powers
| | |
| --- | --- |
| Abilities: | Strength and speed of a savage beast |
| Equipment: | Costume a modified copy of Kraven's battle attire |
| Limitations: | Working as Sinster's lackey whilst possessing the analytical mind of Kraven meant the X-Men were able to turn Xraven against his creator by showing how he was being manipulated |
| Powers: | Telepathy, telekinesis, optic blasts, superhuman stamina and agility, control of ice and ability to manipulate cold |
| Strength Level: | Enhanced Human |
| Weapons: | Hunting knives, spears, and other African weapons |
Summary
| | |
| --- | --- |
| Citizenship: | None |
| Created By: | Stan Lee, Steve Ditko Christos Cage Mario Alberti |
| Current Aliases: | None |
| Current Groups: | None |
| Current Occupation: | Unknown |
| Dual Identity: | None |
| Education: | College educated |
| Former Aliases: | None |
| Former Bases: | U.S.A. |
| Former Groups: | None |
| Former Occupation: | Sinister's lackey |
| Known Allies: | Sinister (formerly) |
| Known Confidants: | Sinister (formerly) |
| Known Relatives: | Sergei Kravinoff, Scott Summers, Jean Grey, Warren Worthington III, Dr. Henry Philip McCoy, Robert Louis Drake (genetic progenitors) Sinister (Creator) and extended families related to these progenitors |
| Legal Status: | Experiment - like Gwen clones |
| Major Enemies: | X-Men, Sinister |
| Marital Status: | Single |
| Place of Birth: | Sinister's laboratory, possibly NYC |
| Real Name: | None |
| Usual Bases: | NYC |
Background
In the early days of Spider-Mans career, Mister Sinister hired Kraven the Hunter to collect DNA samples of the original X-Men. Kraven achieved this end unbeknownst to the X-Men at the time during a battle with them and Spider-Man outside the popular Coffee Bean bar. After returning the samples to Sinister, Kraven later provided his employer with a sample of his own DNA in exchange for further payment.
Years later following Kravens suicide and a series of unsuccessful clones of the original X-Men, Sinister resolved to acquire a sample of the Carnage symbiote believing it could stabilize his clones. Inside Ravencroft Sinister promised Carnage freedom in exchange for a sample of his alien half. Carnage obliged before Spider-Man (Ben Reilly) & the X-Men arrived to contain Carnage as Sinister fled.
After distilling the symbiote to a point where it no longer had any sentience but retained its genetic adaptability, Sinister now had all the ingredients needed to create a super clone he could use to dispatch of the X-Men.
A few years later Sinister unleashed his creation. Forged in the image of Kraven & Sinister, Xraven possessed the DNA and powers of the original X-Men to varying degrees coupled with the DNA and unique abilities of the legendary hunter. The creature honed its skills killing off a chunk of the mutant group the Morlocks before taking the fight to the X-Men on their home turf; - teleporting inside Xavier mansion whilst Spider-Man was present.
Acting on orders to collect DNA samples of all remaining mutants, Xraven proved to be more than a match for the X-Men and Spider-Man until Cyclops encouraged him to look into his mind and observe Sinisters true nature. Understanding he would only ever be seen as a slave by his creator, Xraven teleported back to Sinister to turn on him as the two engaged in battle. Xraven's fate is unknown.
Image Gallery
Appearances
| Cover Date | Appearance Information |
| --- | --- |
| Apr 2009 | App: X-Men & Spider-Man #4 |