Giant Spider (From Peruvian Temple)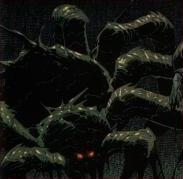 Attributes
| | |
| --- | --- |
| Features: | One very big tarantulesque spider. |
Powers
| | |
| --- | --- |
| Abilities: | Unknown |
| Limitations: | Would probably fall prey to a large boot, or a large can of Raid |
| Powers: | Unknown |
| Strength Level: | Stronger than Spidey/Ezekiel |
Summary
| | |
| --- | --- |
| Created By: | |
| Current Occupation: | Gatekeeper |
| Former Aliases: | Unknown |
| Former Bases: | Unknown |
| Former Groups: | Unknown |
| Former Occupation: | Unknown. Probably has always been a Gatekeeper |
| Known Allies: | Unknown |
| Major Enemies: | Spider-Man, Ezekiel |
| Place of Birth: | Unknown |
| Usual Bases: | Unknown |
Background
When Ezekiel captured Peter Parker, he bled him to summon "the powers", and left. The giant spider, who had given Zeke his powers in the first place, came to devour the pretender, and found a weakened Spider-Man in his stead. But Ezekiel had an epiphany and turned back, attacking the spider and dying in the process. Having killed its original target, the spider left, leaving Peter unharmed.
Appearances
| Cover Date | Appearance Information |
| --- | --- |
| Jul 2004 | FB: Amazing Spider-Man (Vol. 1) #507 |
| | (Flashback) Gave Ezekiel his powers |
| Jul 2004 | App: Amazing Spider-Man (Vol. 1) #508 |
| | Kills Ezekiel |
Thanks To
The assistance of the Marvel Chronology Project is gratefully acknowledged.
Some of the above information is extracted from the various versions of the Official Handbook to the Marvel Universe and the more recent Marvel Encyclopaedias.