Midnight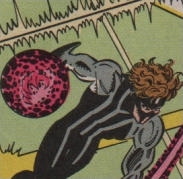 Attributes
| | |
| --- | --- |
| Eyes: | Cyborg (Yellow) |
| Features: | His appearance is a mix of skin grafts and metal |
| Hair: | Brown |
| Height: | 6' 2" |
| Weight: | 250 lbs. |
Powers
| | |
| --- | --- |
| Abilities: | No natural abilities except fighting skills he may have learned from Moon Knight. His power is derived from cyborg enhancements given to him by the Secret Empire. |
| Equipment: | The Secret Empire tried to install everything from a flame thrower to a freeze ray into his cyborg implants. |
| Limitations: | Once damaged, his cyborg enhancements were ineffective until repair. |
| Powers: | Enhanced cyborg strength, durability, flight, and endurance. Also, was equipped with a number of weapons ranging from a laser beam to a flame thrower. |
| Strength Level: | Midnight was a cyborg under constant improvements during his debut in Amazing Spider-Man #353. At his peak during the storyline, he could hold off Spider-Man, Nova, Moon Knight and Darkhawk on his own. |
| Weapons: | See all of above. |
Summary
| | |
| --- | --- |
| Citizenship: | U.S. |
| Created By: | Charles Dixon, Russ Heath |
| Current Aliases: | Midnight |
| Current Groups: | Unknown |
| Current Occupation: | Criminal |
| Dual Identity: | Moon Knight's Former Protege |
| Education: | Unknown |
| Former Aliases: | Midnight |
| Former Bases: | Secret Empire locations around New York City |
| Former Groups: | Secret Empire |
| Former Occupation: | Partner to Moon Knight |
| Known Confidants: | Moon Knight, Secret Empire |
| Known Relatives: | Midnight Man (Father) |
| Legal Status: | Unknown |
| Major Enemies: | Moon Knight, Spider-Man, Punisher, The New Warriors |
| Marital Status: | Unknown |
| Place of Birth: | Unknown |
| Real Name: | Jeff Wilde |
| Usual Bases: | Current Base is Unknown |
Background
Jeff Wilde was the son of Anton Mogart, the Midnight Man, a villain from the original Moon Knight series during the 1980's. The 'Midnight Man', so called because he "always struck at midnight", debuted in Moon Knight #3 and was a formidable villain during the series first run.
Oddly enough, Jeff Wilde would eventually become Moon Knight's partner. During the third, and most successful, Moon Knight series, Jeff partnered with the hero through several issues and took the name Midnight (Moon Knight #19- 21). While training his new sidekick, Moon Knight was targeted by the Secret Empire. In an attempt to eliminate Moon Knight for past confrontations with the criminal organization, the Secret Empire crippled Midnight with an energy blast. Moon Knight would leave the fight with the assumption that Midnight had been killed by the blast and there was nothing left of him.
Moon Knight believed his new partner was dead, but he was in fact left alive in the clutches of the Secret Empire. Although horribly maimed and disfigured, Jeff survived and was experimented on by the Empire.
Jeff Wilde was re-built into a weapon of the Secret Empire. With his hatred toward Moon Knight already established, Midnight was unleashed upon New York (namely Spider-Man) in an attempt to kidnap heroes for the Secret Empire. Heroes that would be re-programmed with more effective weapons and the beliefs of the Secret Empire.
Appearances
| Cover Date | Appearance Information |
| --- | --- |
| Sep 1989 | App: Moon Knight (Vol. 3) Marc Spector #4 |
| Oct 1989 | App: Moon Knight (Vol. 3) Marc Spector #5 |
| Nov 1989 | App: Moon Knight (Vol. 3) Marc Spector #6 |
| Nov 1989 | App: Moon Knight (Vol. 3) Marc Spector #7 |
| Dec 1989 | App: Moon Knight (Vol. 3) Marc Spector #8 |
| Jan 1990 | App: Moon Knight (Vol. 3) Marc Spector #10 |
| Feb 1990 | App: Moon Knight (Vol. 3) Marc Spector #11 |
| Mar 1990 | BTS: Moon Knight (Vol. 3) Marc Spector #12 |
| Jun 1990 | App: Moon Knight (Vol. 3) Marc Spector #15 |
| Jul 1990 | App: Moon Knight (Vol. 3) Marc Spector #16 |
| Aug 1990 | App: Moon Knight (Vol. 3) Marc Spector #17 |
| Sep 1990 | App: Moon Knight (Vol. 3) Marc Spector #18 |
| Oct 1990 | App: Moon Knight (Vol. 3) Marc Spector #19 |
| Nov 1990 | App: Moon Knight (Vol. 3) Marc Spector #20 |
| Dec 1990 | App: Moon Knight (Vol. 3) Marc Spector #21 |
| Jan 1991 | App: Moon Knight (Vol. 3) Marc Spector #22 |
| Feb 1991 | App: Moon Knight (Vol. 3) Marc Spector #23 |
| Mar 1991 | App: Moon Knight (Vol. 3) Marc Spector #24 |
| Nov 1991 | FB: Amazing Spider-Man (Vol. 1) #353 |
| Nov 1991 | App: Amazing Spider-Man (Vol. 1) #353 |
| Nov 1991 | App: Amazing Spider-Man (Vol. 1) #354 |
| Dec 1991 | App: Amazing Spider-Man (Vol. 1) #355 |
| Dec 1991 | App: Amazing Spider-Man (Vol. 1) #356 |
| Jan 1992 | App: Amazing Spider-Man (Vol. 1) #357 |
| Jan 1992 | App: Amazing Spider-Man (Vol. 1) #358 |