Hypertron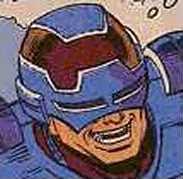 Attributes
| | |
| --- | --- |
| Eyes: | Blue |
| Features: | Always wears a suit |
| Hair: | Blonde |
| Height: | Unknown |
| Weight: | Unknown |
Powers
| | |
| --- | --- |
| Abilities: | Public relations, welding |
| Equipment: | Hypertron suit and disks |
| Limitations: | Bad in choosing names, recognising danger of certain weapons. The suit needs to change discs to do certain things |
| Strength Level: | Regular male |
| Weapons: | Volt Rays, Negative Vortex |
Summary
| | |
| --- | --- |
| Citizenship: | U.S. |
| Created By: | |
| Current Aliases: | Bob |
| Education: | Presumably college |
| Former Groups: | Unknown |
| Former Occupation: | PR Agent |
| Known Allies: | Spider-Man |
| Legal Status: | No criminal record |
| Major Enemies: | Timmy, Chester and Myron |
| Marital Status: | Married |
| Place of Birth: | Unknown |
| Real Name: | Sturdevant E. Robbins |
| Usual Bases: | His agency |
Background
Sturdevant E. "Bob" Robbins, is Hypertron. His PR agency was falling apart, so he tried to get Spiderman as a client. Coincidentally, when he proposed it to Spidey he was catching a bank robber wearing a special suit. Bob knocked him out and took the suit for himself. He welded a grid in it so the heat dispersal wouldn't be blocked and then started thinking codenames to gain fame (Bobtron 4000, Captain Bob, etc.). But the robber's name was Hypertron and that's what he settle with, eventually.
Meanwhile, two of the developers of the suit paid the bail of the robber and third scientist. They are three nerds and former AIM scientists who just spent the last of their money making the suit. They trace the suit and start fighting Bob. Spidey gets in the way and when Bob's Volt Rays aren't enough to stop the heavily armed trio, he asks the suit's Help to get a good weapon. It suggests the Negative Vortex.
He activates it and the trio goes "Oh Boy". it is gonna wipe half the city out. With Spidey's intervention, it doesn't do anything, the three go under arrest, and Bob gives the suit back to him.
But he is smart enough to keep a copy of the suits' diagrams to himself.
Appearances
Thanks To
The assistance of the Marvel Chronology Project is gratefully acknowledged.
Some of the above information is extracted from the various versions of the Official Handbook to the Marvel Universe and the more recent Marvel Encyclopaedias.